Fashion styles from the past are elaborated and renewed in a modern way and now are once again setting trends in the Spring Summer 2023 collections. We researched them in our historical archives and analysed them together with the AFOL fashion school.
"Study the past, if you want to define the future," said Confucius.
We don't think he was referring to fashion, but never has this truth been more accurate. It is often said that fashion lives on an eternal return, elaboration and renewal of what has already happened in the past.
It is like a Formula 1 car that always returns, lap after lap, to the same curves of the circuit, but each time it passes, it improves the trajectories, gains confidence and speed, enhances its performance. This is what fashion is like every time it recovers styles from the past and creates something new. An art that interprets the footsteps behind it and uses them to proceed to the next step.
Based on this awareness, Arsutoria also wants to contribute to the creative process of renewal of the footwear and leather goods world by following this path of "return to the future."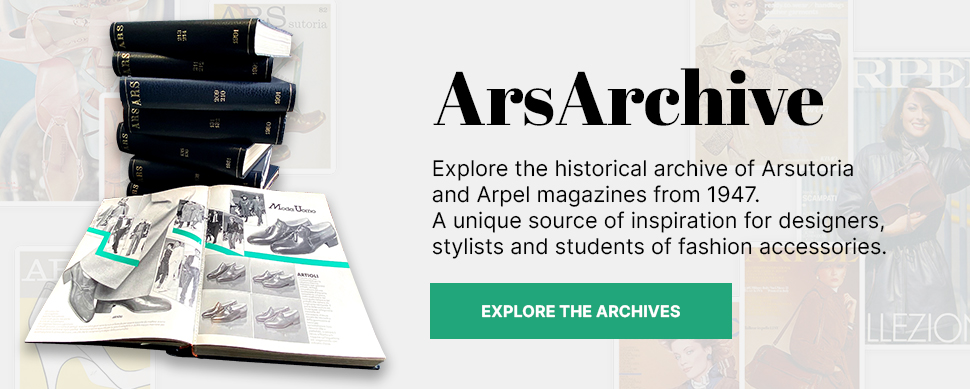 The entire archive of our magazines is kept in the Milan office, and now for the most part is also available online. Starting in 1947, they illustrate evolutions, trends, and concepts that fashion has made over the decades.
More and more designers are asking for access to this huge source of information to get ideas for their collections. Now they can browse through all the pages full of suggestions on the arsutoristudio.com digital platform.
However, in this special issue we have decided to go further and, in collaboration with the students of the AFOL fashion course, we have decided to sift through the archives of Arsutoria and Arpel to find correspondence between the trends we have developed for next Spring/Summer 2023, presented in last January's magazine, and what has already been thought-up by designers of the past.
The idea is to continue along the path that imagines the trends and fashions of tomorrow, providing concrete creative ideas rooted in decades of costume and accessory history.
Contents inside the special issue:
From Arsutoria archives to Spring/Summer 23 trends 
AFOL Moda, Fashion Archive and Heritage Management course
Report Arsutoria Heritage
Access to the contents of Arsutoria Historical Archive special issue is only available to subscribers. If you haven't already done so, subscribe to ArsPlatinum to gain access to all Arsutoria Studio content and the magazine's Historical Archive.