Women fashion shows S/S 2024: elegance in the everyday
Every season the Fashion Brands compete to organize the most spectacular fashion show. There is more and more talk of the event as a privileged expedient to excite and promote a cultural dialogue. Indeed, fashion has always acted as a very sensitive thermometer of the present, and even in this effervescent Spring Summer 2024 season, it has proved more than ever to be a powerful communication tool. Emotions made of color, movement and music pervaded the cities.... NY, London, Milan and Paris were invaded by parades of VIPs and Stars wearing looks created for them by the Brands. We come from a market time when opulence worked: lots of prints, embellishments and embroidery; a time when people bought clothes to get noticed on the street or on social media. But now designers are focusing on timeless fashion. World fashion offers everyday looks, an elegance that stays away from excess, made up of garments in neutral tones, easy to match with each other, but curated, sophisticated and masterfully made. Special attention is paid to gold tones and transparencies. The former is flaunted as a glamorous color to be worn from morning to evening. The second theme casts itself in search of lightness as the secret formula for rediscovering freedom.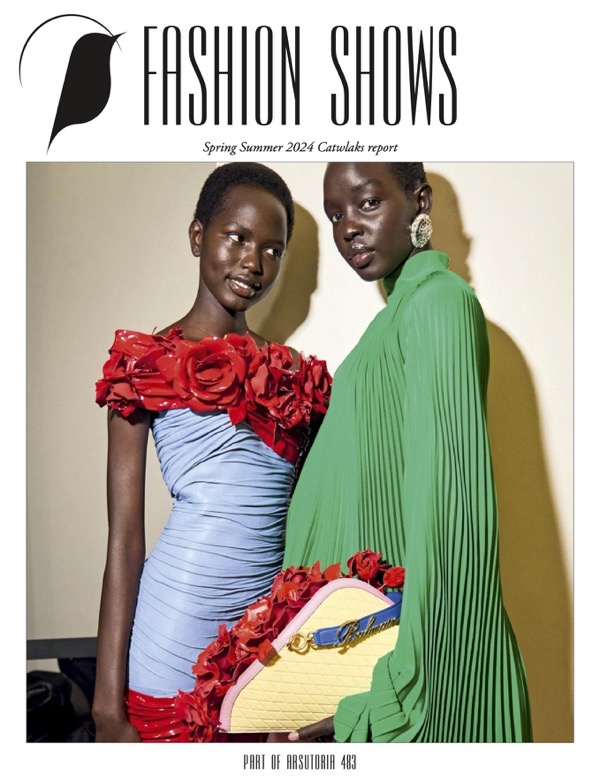 Read
Mariacristina Rossi guides us through the trends seen on the Spring/Summer 2024 women catwalks.
This is a free trailer video. FIll the form to get notified when the full lenght video is released.
Discover more contents in the latest issue of Arsutoria Magazine
Arsutoria #483
Inside Arsutoria Magazine you will find the latest industry news, photo galleries with shoe, bag and material trends, and interviews with professionals and experts in the world of footwear and leather goods.